Omani Ambassador Visits Center's Supercomputers
6 Jun. 2022
On June 6, Ambassador Dr. Mohamed Said Al Busaidi and Counsellor Mr. Mana Al Kathiri of the Embassy of the Sultanate of Oman visited the University of Tokyo Kashiwa Campus. After the visit to the Center for Spatial Information Science and the Institute for Solid State Physics, They visited the Information Technology Center (ITC) to see the supercomputers.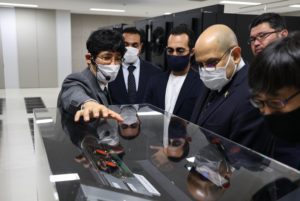 At the ITC, Prof. Toshihiro Hanawa of the Supercomputing Research Division gave a brief lecture about an overview of ITC and its supercomputers. After that, they visited the supercomputer Oakforest-PACS (service terminated in March 2022), supercomputer Oakbridge-CX, and HPCI shared storage.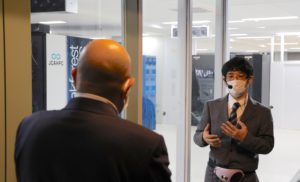 During the tour, they asked a variety of questions such as, "Can the deep learning analysis results be opened?", "How can students and researchers in Oman use the University of Tokyo's supercomputer?", "How much does it cost for electricity?". The visit was concludes in a lively atmosphere.