Kengo Nakajima awarded SCA HPC Pioneer & Achievement Award
28 Mar. 2023
Professor Kengo Nakajima, head of Supercomputing Research Division at the Information Technology Center, The University of Tokyo, has been awarded the "SCA HPC Pioneer & Achievement Award (Japan)" at Supercomputing Asia 2023 (SCA23), which was held in Singapore from February 27th to March 2nd. The award ceremony took place on February 28th.
The HPC-Pioneer & Achievement Award recognizes an individual who has been instrumental in shaping their state/country/kingdom's High Performance Computing journey from the start and who has made a significant contribution to its development since.
Kengo Nakajima has been recognized for his pioneering work in the development of HPC research in Japan in the area of large-scale parallel computing, the development of flagship systems, and in promoting HPC education.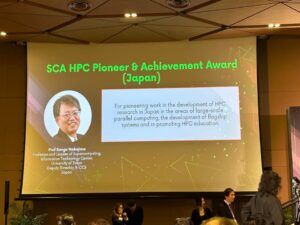 Award Ceremony at Supercomputing Asia 2023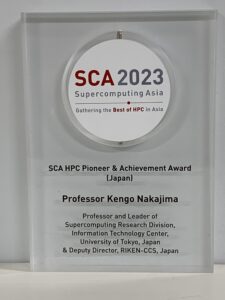 Plaque commemorating the award